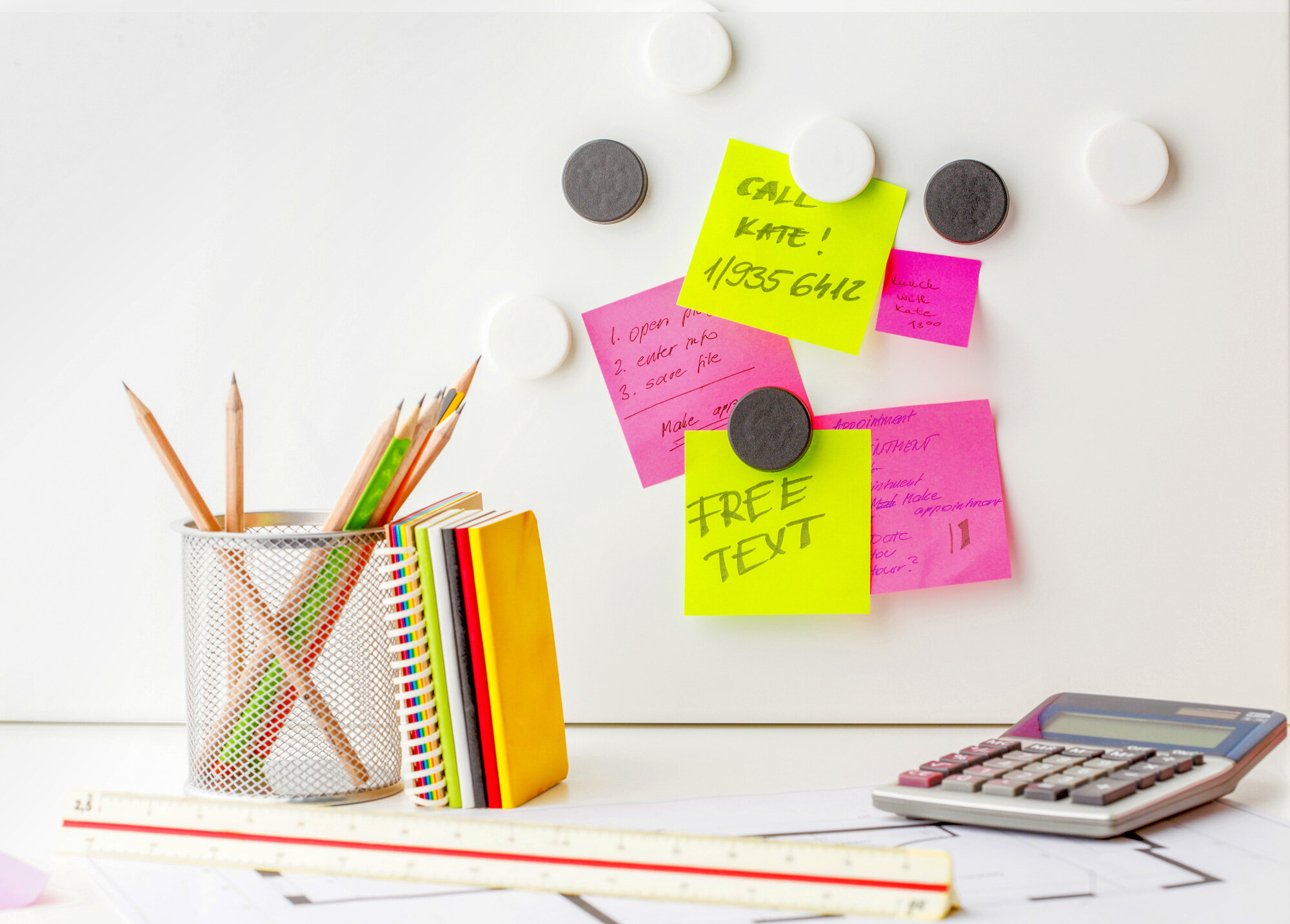 Magnet systems for office technology and advertising technology: For perfect order and the best view
In everyday office life, magnets offer a wide variety of highly flexible ways to record, structure and organise information. From daily planning, reminders, notices or menus to the organisation of meetings and workshops: Time and again, magnets are indispensable companions. This high degree of flexibility and range of applications also makes magnet systems a preferred solution for advertising technology when it comes to attaching materials and neatly presenting documents. With our wide product range of different solutions - from office magnets of various sizes to magnetic bars - we at Brugger are one of the most sought-after manufacturers.
For a particularly high-quality look, we recommend our translucent cylinder magnets, which are available in a variety of modern colours. If you are looking for more cost-effective office magnets, our hard ferrite magnets are a good choice. Although they don't have the same holding power as neodymium magnets, they are still robust and durable.
We are happy to print your company logo or lettering on our office magnets if you need a larger quantity.
Magnets for office technology: what basic solutions are available?
Organising, planning and presenting - magnets are the ideal tool for everyday office work. The key advantage is the high flexibility with which magnets can be attached and detached. Unlike attachments with adhesive tape, drawing pins, pins or similar, no residue remains on the surface: simply a clean solution. For attaching papers, a magnet always needs the appropriate substrate. Both permanent installations in the room (e.g. a firmly screwed magnetic bar) and mobile solutions (e.g. transportable metal walls) can be realised. The range of solutions we offer at Brugger is broad and versatile. It ranges from small, medium and large office magnets to magnetic bars, all in different sizes and dimensions.
What are the possibilities for fastening with magnets in everyday office life?
The spectrum of possibilities for using magnet solutions for office technology is versatile. As an experienced manufacturer of magnetic systems and a long-standing partner of industrial companies and office furnishers, we at Brugger would like to introduce you to the most important ones:
In most cases, whiteboards are metallic, so documents or notes can be easily attached and removed. They are usually attached with simple office magnets. This is a very effective solution, especially for workshops or brainstorming sessions.
Glass magnetic walls are popular in the office and as advertising space. However, they require a metallic component behind the glass panel to ensure the holding power of office magnets. It is important to use strong magnets with high holding power.
For a flexible magnetic board in the office, it is a good idea to use self-adhesive ferro foil instead of a pin board. The foil can simply be cut to the desired shape and size and attached to the wall.
Would you like to improve your office organisation, but screws, drilling and gluing are not your thing? Then try magnetic paint. This allows you to turn your walls into magnetic helpers to improve your organisation.
Magnets and magnet systems for advertising technology, foiling and trade fair construction
For many years, advertising technicians as well as foil makers have appreciated the almost endless possibilities that magnets offer for their industry. Attachments and holders for a wide range of materials from small to large: magnets can provide a secure yet flexible solution everywhere: Roof rack systems, magnetic foils, adhesive magnets for attaching foils, badges, magnetic partitions and grounds, magnets for product labelling to small memo boards and other solutions for everyday use at the trade fair or at the customer's site: Magnets are always important helpers.
In concrete terms - magnet systems from Brugger are used for advertising and office technology in a wide range of applications such as:
Advertising signs on vehicles

Badges with magnetic attachment

Vehicle lettering (holding the wrapping foil)

Fixing notes, documents and photos on memo boards or magnetic bars

Exhibition stand construction - magnetic plug-in partition walls or grounds