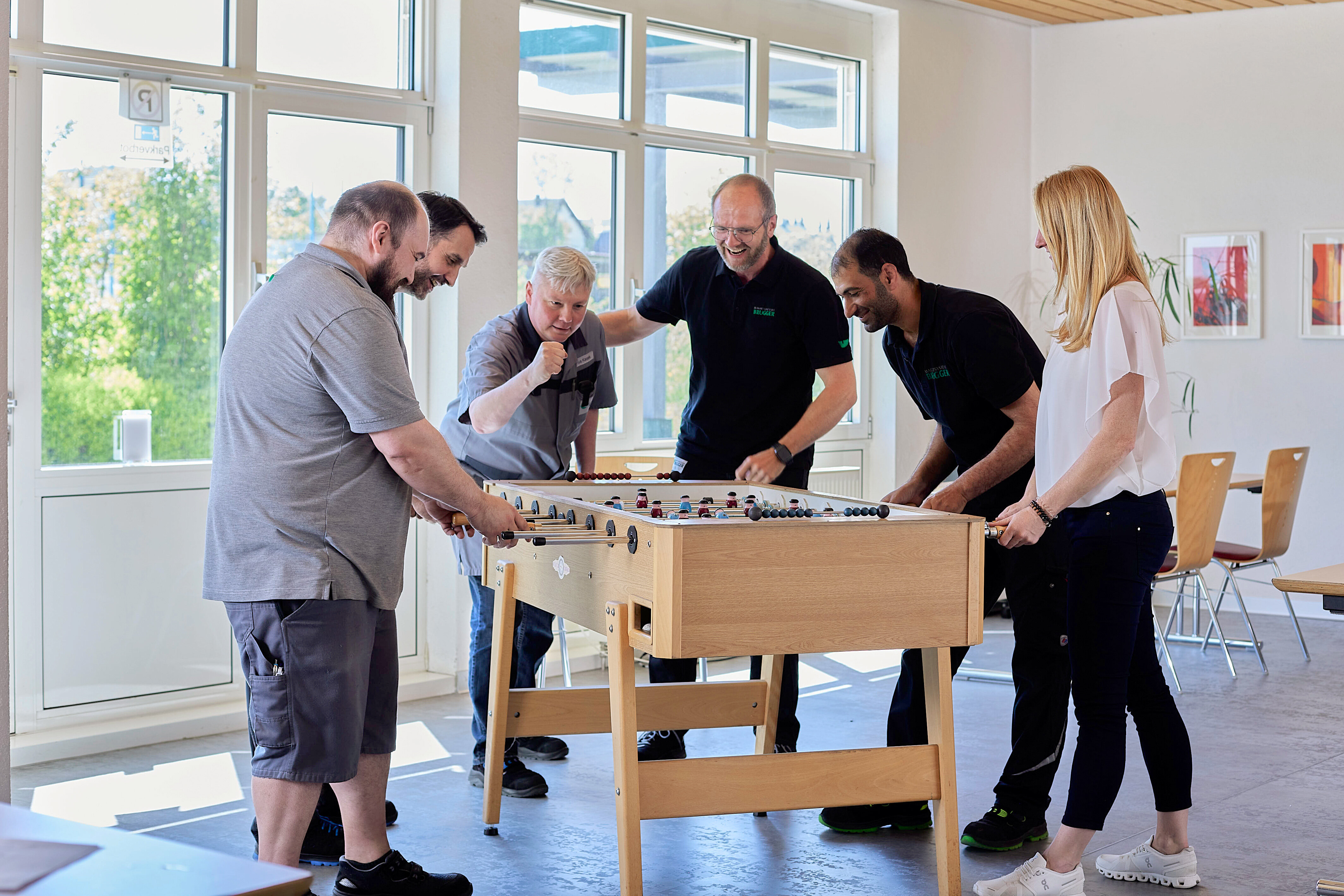 Know. Can. Want
BRUGGER is an expert in the entire world of magnetism, especially for permanent magnets of all kinds. On this basis, we fulfil a wide range of application possibilities. Accordingly, the production of individual moulds as well as the embedding and encasing of magnets in materials such as plastic, rubber and metal are also part of our core competencies. Processes such as injection moulding, metal processing, pressing, punching and bonding extend our fields of expertise.
With foresight into the future
Our sights are set on the future and we are confident that we are up to the challenges of the market. We are convinced that we will successfully shape the economic future through responsible action and constructive approaches to solutions. We keep our finger on the pulse of the market and strive to continuously improve our products and services in order to offer our customers the best possible solutions.
Actively shaping the world
Our fields of action are our employees, our customers and our social dimension in our immediate environment. We want to reflect on all these fields of action again and again and adapt them to the challenges of the time in the sense of responsible corporate governance. Sustainable management is our top priority. Ecology, economy and social issues form the basis of our mission.
towards our customers and suppliers is seen by us as an important building block for good business relationships.
We not only expect this, but also have the claim to offer reliability.
is for us the basis for trust and openness in cooperation with our colleagues, superiors and business partners.
Moreover, we are sincere in the sense of honesty and openness, also towards ourselves.
should be everything we constantly do and / or deliberately refrain from doing.
should be at the forefront of all our actions and work.
in development, production, procurement and disposal, as well as the economic development of the company, is important to us.
Quality. Durability. Innovation.
BRUGGER Magnetsysteme is a reliable partner when it comes to magnetic assemblies. We attach great importance to customer satisfaction and offer individual solutions, high quality and durable products. At the same time, we are aware of our responsibility towards our environment and are committed to acting in an environmentally conscious manner. We are continuously working to improve our processes and products in order to make a sustainable contribution to the preservation of our livelihoods.
Of course we are certified according to ISO 9001 (view certificate)
A company history full of appeal
Today, there are few industries in which BRUGGER is not represented with a range of specialised products. The competence does not come by chance. It is the result of many years of experience, constant innovations, consistent customer orientation and strict quality management. And it is the consequence of the conviction not to rest on our laurels, but to see new customer requirements as a challenge and an opportunity.
1963
Rudolf Brugger founded his first business, a metalworking shop, in Schramberg-Sulgen in 1963. In the beginning, the metalwork was done on a wage labour basis by only three employees, who produced mainly bent wire parts for tent accessories and shop fittings.
1968

In 1968, the company added to its range of products by starting to manufacture magnet systems for advertising signs to be used by major department stores. This new product line started small, but grew and expanded over the years. The fact that this small manufacturing company was able to rapidly meet customer needs made it stand out right from the start.
1973
In 1973, it officially became a limited partnership. Orders for magnets continued to increase. So much so that by the 80's, the company invested in its first injection molding machine in order to inject the magnets into the housing.
1982-1994
In 1982, the company changed its name to Brugger GmbH. Due to the good order situation, the possibilities for expansion on the property in Schramberg-Sulgen were soon exhausted. Therefore, in 1994, the construction of a new factory building was started in Hardt for a production according to the most modern aspects at that time. The sons Thomas and Georg Brugger successively took over the management.
1999-2003
In 1999, Brugger GmbH was certified according to DIN EN ISO 9001. Since then, the company has been able to grow continuously and record increasing order numbers. In order to meet the demands of the market, an extension was built in 2003 and the production and storage area was expanded to around 5,000 m². These measures created ideal conditions for efficient and successful production.
2008 until today
In 2008, Brugger GmbH introduced environmental management in accordance with the EU Eco-Management and Audit Scheme (EMAS) and thus set an example for sustainability. In 2013, Brugger published its first sustainability report and celebrated its 50th anniversary. In 2016, the company was awarded the "Attractive Employer" seal by the Schwarzwald-Baar-Heuberg Chamber of Industry and Commerce for the first time and is still an "Attractive Employer" today.